View Cart
Personal Note from Ms Bobbi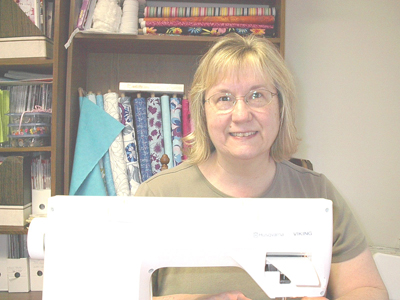 Welcome to Fascination in Fabrics.
Hello, my name is Bobbi Smith and I want to welcome you to Fascination in Fabrics. I am a home economist and my mission is to teach and pass down the lifelong learning skills of sewing and the needlearts to anyone that would like to learn these valuable and creative skills!
Before I had an online sewing business, I spent many years running an alterations business from my home. It was a great job for a single mom with 2 small children and I could keep up with busy school schedules. In 1995, shortly after I married Ted, the love of my life, I was able to open an online sewing business focusing on heirloom sewing. Beautiful natural fabrics like cotton and linen combined with the most delicate laces, ribbons, and trims always make the most beautiful baby clothes or the finest wedding accessories. I simply adored (and still do) taking a wedding dress worn by a Mom or Grandmother and fashioning it into a beautiful christening gown, bonnet, and booties. Christening ensembles that would become heirlooms for a family and passed down from generation to generation.
In 1997 Ted and I moved to Philadelphia. I began to frequent a local Viking store in Wilmington Delaware and it wasn't long before they asked me to teach heirloom sewing in their store. I agreed and before long I was teaching not only heirloom sewing but a variety of sewing disciplines too! My teaching career had been launched! Several summers later the store needed someone to teach the summer program for kids. I said yes and had a fun summer with a group of very enthusiastic kids eager to learn to sew. That fall Tower Hill School asked the Viking store if someone could come to the school to teach a Beginning Sewing Class. I said that I was up for the challenge and for 8 weeks I traveled to Tower Hill with borrowed machines from the Viking store. After the class was over my dealer did not want to continue the classes outside the store. I really had fun with the kids so I decided to purchase 10 machines and lots of sewing equipment to continue bringing the joys of sewing to my students at Tower Hill. My traveling sewing school was up and running!
12 years later I have taught in many after school programs in and around Wilmington Delaware. Tower Hill continues to be my main school for after school programs. I have worked with Girl Scout troops in both Delaware and Pennsylvania and have held classes in a local Arts Center. Summers are spent holding camps at Tower Hill or scheduling private lessons for special projects. My students range in age from 4 years old to 17 years old. My van is always packed with sewing machines, sewing equipment, and kits for my kids to sew. There's never a dull moment and there's always lots of smiles and sewing going on in my classes. I'm "Ms Bobbi" wherever I go and I could not be happier! Life is good!
I also teach a mixture of private clients that come to my home classroom or I travel to their homes for lessons. Some of my young clients I have from kindergarten through high school and beyond. I also have many of the Moms and Grandmoms that decide to give sewing a try or rekindle their skills from an earlier period in their lives. And there are always calls for alterations for parents of my kids or from costume shops like OperaDelaware to help get a show up and running. The life of a seamstress...
Sewing is a life skill that has sadly not been taught in most schools for a very long time. It is my goal to reach out to kids, teens, and adults of all ages and communicate that sewing is fun and a great leisure pastime. It saves money and it helps in the campaign for us to save our planet by going green and recycling. Altering your clothes can make them look better and repairing them can extend their life. Learning to sew clothes for your kids can save money and spark creativity. Passing the knowledge of how to sew to your kids and grandkids is priceless!
Using your sewing skills to better the community is a joy for all involved and fun to do too! In Delaware, my students have sewn Christmas Stockings for "Stockings for Soldiers". This organization sends thousands of handmade stockings to the soldiers serving our country. Each stocking is filled with food and personal items and contains a handwritten note. We have also made pillowcases for the kids at A.I. Dupont Hospital for Children which were given Christmas Day to the kids who were too sick to go home for the holidays. We have also made pillows for the Veterans living at the Veteran's Hospital in Elsmere Delaware. We continue in my classes to give back to our community and share in the responsibility to take care of each other. We are making a difference in the lives of others!
Take some time to peruse my site and let me know your thoughts. I'll be adding new information all the time! Send me your sewing related questions and I'll get answers for you. Let me help you with your sewing projects and ideas. And, if you're close to me come take a class or take some private lessons. Learning to sew and loving it!
Bobbi
Click Here to Download Our Brochure