I love to teach kids how to sew using very simple projects. Felt is a great fabric for this purpose. Brightly colored, it doesn't fray and has enough body so the kids can hold the fabric easily while learning to stitch. Felt can be purchased by the yard but can also be purchased in the craft section of Joann's or Michael in 9 and 12 inch squares. Besides a pair of scissors and a few pins you will need squares and  rectangles and a few assorted pieces or remnants of felt in different colors. Add some favorite colors of floss, a size 18 or 22 chenille needle, buttons in assorted sizes and colors, and some sequins and you're set!
---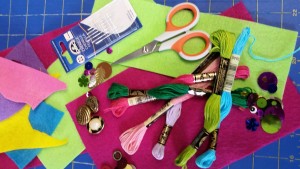 ---
In my last post, I talked about the running stitch, the overcast stitch , and sewing on different kinds of buttons. Using these stitches, cut the felt into squares and rectangles and start having some sewing fun! Cutting 1 piece of felt and cut into 2-6″x 6″ squares. Cut some shapes from the felt remnants and pin on one of the squares towards the middle. Your applique' is ready to be stitched with a running stitch or an overcast stitch. Add a button or two and maybe even try to stitch some sequins on to finish your design. Put the two pillow squares together with the design facing out and pin leaving a small space in the middle of one of the sides of the pillow. Using a running stitch, stitch around the outside of the pillow about 1/4 from the edge of the pillow until you come back to about 3″ from where you started to stitch. Stuff the pillow lightly with fiberfill and finish stitching the pillow closed. So cute!
---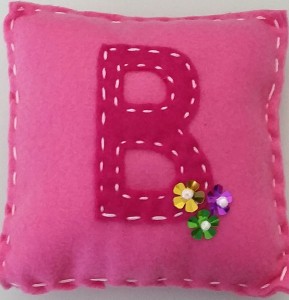 ---
Now cut several rectangles. Fold the rectangle into 2 even sections and top section about half way down. The top section can stay square or can be rounded  or pointed for the flap. Decorate the flap or the back and/or the front of the pouch. Now add a snap or a button for a closure. Super simple and the kids love them!
---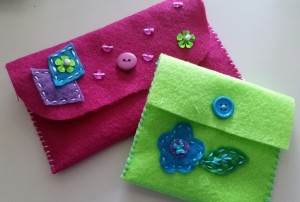 ---
Remember, sewing is fun and it is a learned skill! Let your kids experiment with colors and stitches. There is no right or wrong. Beauty is in the eyes of the beholder! If you need help with the how-to's of embroidery, click on the link to
"The Amazing Stitching Handbook for Kids"
by Kristin Nicholas featuring 17 embroidery stitches and 15 fun and easy projects. This book is published by C& T Publishing and is part of the Fun Stitch Studio Series. Beautiful illustrations in an easy to read format. Great projects and lots of information including a list of sources for supplies, glossary of terms, and a guide on how to make the embroidery fit your own personality. This book is a wonderful addition to your sewing library and one I'll be using this year as a text in class. Be sure to check it out!
---
Shop
"The Amazing Stitching Handbook for Kids"
Now!