Many of my young sewers were so lucky to have received a bright and shiny new sewing machine from Santa or for Hanukah this year. After asking my students about receiving a sewing machine my next question to them is "How do you like it?"
For a moment, there is silence as they stare at me. Then they blurt out "It's still in the box!" and I am sad for them. And then I answer this exclamation with these words:
"I am so happy that you got a machine because now you can sew whenever you want. I will let your parents know that I am available to take the machine out of the box and set it up for you! We will look at the machine together with your parents so everyone will know how to thread it, use it, and take care of it. Does that sound like a plan of action?" At this point I get a smile and a nod from my student and life is good again.
So, parents please don't let the machine sit in the box. Please get in touch with me so we can schedule a time for you and your sewers to set up your machine and learn how to use it. You can bring the machine to me or I will be glad to come to your house for the lesson. Having your very own machine is awesome! Let's get sewing!
---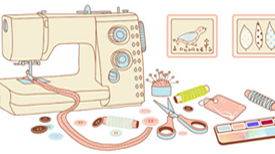 ---
Ms Bobbi
p.s. Click Here for Sewing Lesson Information
p.p.s. Click Here for Gift Certificates